Lead from Afar. The Digital Transformation of Leaders and Employees
Now that telecommuting has become a new normal, we look back at the main causes of failure for remote teams and share the key factors that enable them to better collaborate, innovate and work effectively, remotely.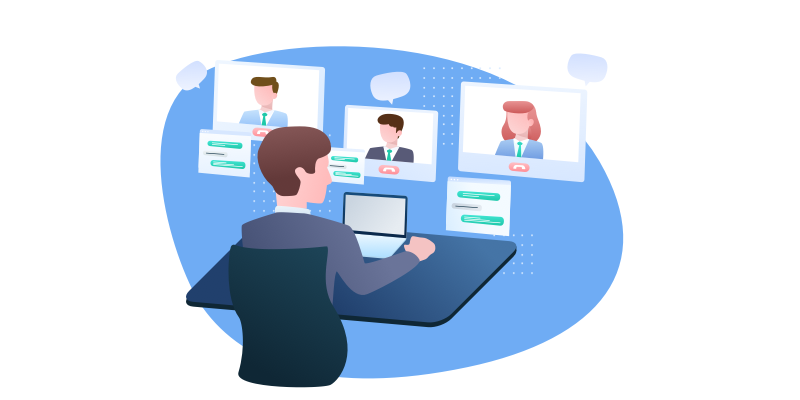 1. Distance or distances?
Remote management must take into account two notions: objective distance and subjective distance. Objective distance includes the geographical dispersion between team members, their temporal dispersion according to different time zones, the configuration of the team with respect to the organization (number of sites, isolation of team members, balance of the number of team members present on each site). Geographical dispersion is easier to manage thanks to Information and Communication Technologies (ICT) than temporal dispersion.
The subjective distance between members is both affective and cognitive. Connection occurs through communication and identification within the team, each process influencing the other. Frequent, in-depth, interactive communication between two distant individuals increases their closeness. Individuals discover or create common identities and build a shared foundation that allows them to work better together. This identification through the perception of similarities creates a psychological bond that reduces the distance between individuals. Moreover, the psychological distance between a manager and an employee is partly due to real or perceived demographic or cultural differences, with this social distance increasing with differences in power and status.
2. The main causes of failure of remote teams
The lack of organizational support and recognition is one of the main causes of failure according to the literature, because often the role of management with respect to remote employees is not reconsidered, and the implementation of teleworking is not thought out as a global reorganization solution. Inadequate or non-performing information and communication technologies are also a major pitfall, as many teleworkers noticed during the first confinement.
On the team side, a lack of autonomy or adaptability of some employees to the distance can be fatal to its proper functioning. Too large a remote team, cultural differences or the level of English in international teams inevitably create islands of misunderstanding. Finally, working remotely tends to create individual barriers, such as increased stress levels, fear of the unknown and isolation, fears about increased levels of individual responsibility and autonomy, uncertainties about career and promotion, and difficulties with the use of technology.
3. The six key success factors of remote teams
1. A company policy on remote working should be designed before its generalized implementation. The main guidelines must be communicated to remote teams and their managers (resources, communication, training, performance measurement, etc.). A campaign to combat the preconceived notion that remote workers work less than on-site workers must also be launched. Finally, the career prospects of remote workers must not be less important than those of on-site workers, close to their manager.
2. The technological choices that are made when setting up remote teams are fundamental. The use of ICT modifies control, planning and coordination: it requires more structure, precision and support for employees. Collaborative tools such as Teams, Slack or Workplace enable to recreate a certain proximity and to follow the execution of projects. However, the use of these tools must be governed by guidelines, as there are biases in their use, such as withdrawing to avoid confrontation or, conversely, conflict due to an inappropriate tone or misunderstanding of the context.
3. A manager should implement specific practices for remote teams, such as understanding the specific needs and expectations of each remote employee, organizing individual or group meetings to inform them of current events, news and company actions, specifying the hours of availability of each person and setting a clear definition of responsibilities and rules of the game within the virtual teams.
4. On a collective level, the sense of belonging to one's team is fundamental. This sense is created by communication (listening, empathy, knowledge transfer, ritualization of exchanges, etc.), involvement in the common mission to be accomplished, and trust in others, via the creation of individual links.
5. The selection of remote team members according to their skills is essential (autonomy, remote communication, openness, ICT skills…)
6.  A good virtual team leader must have the ability to maintain continuous contact with team members, an open mind, effective communication, good delegation and a results-oriented management style.
Typology of remote teams and leadership type
4. Support dispersed teams to increase their efficiency
The challenge is to help virtual teams work better, and to support managers and teams in this digital transformation. It is therefore essential to help them recreate a group dynamic, to overcome the complexity of their organization, to adopt the tools and practices of the modern workplace and to take psychosocial risks into account.
5. To go deeper into the matter
My offer: Team Coaching
Publications: